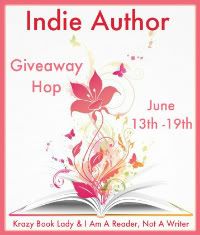 Welcome to another giveaway hop. Thank you to I Am A Reader, Not A Writer and Krazy Book Lady for hosting
I will be giving away pretty much any indie book I've featured on my blog in ebook format of choice as long as it's up to $6.00. You can also pick a book that hasn't been on my blog as long as the author has and again is indie, is ebook and up to $6

You can select any Seventh Star Press book or author. Perhaps Annihilation of Foreverland, Garden of Apples ( still trying to get confirmation from the author it's available as ebook ) any from Hydra publications, Shadow of Kings, Click,  All Her Father's Guns, Tantric Zoo or other Rob Loughran book, Gods Eye, Charles Colyott, Dark Side of the Moon etc. etc.

Browse my blog check the reviews or author interviews if one of their books sound good to you and is $6 or under let me know in a comment.
Open internationally, please fill in the rafflecopter form then check out the others participating and thanks for supporting indie authors and publishers.