Donna at Bites is running the always fantastic Banned Book Week blogger campaign because it's a must read of course if some douche bag says you shouldn't read it.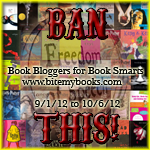 Sex Wax Amy at Lady Reader's Bookstuff is the big cheese for the
National Bullying Prevention month blogger campaign
because it's a must to join if you've ever had to deal with a douche bag.
These two tie in together perfectly and this quotes sums it up nicely
"Banning books is just another form of bullying. It's about fear and the assumption of power. The key is to address the fear and deny the power." James Howe, author of ADDIE ON THE INSIDE and THE MISFITS
How perfectly said. I promised both that I would do a post and as someone who loves to read and abhors the idea of being denied a book not to mention someone who was bullied as a child it was a no brainer.
I'm not nearly as eloquent as James Howe but I am very opinionated on my views on these two subject. They are plain wrong no ifs ands or buts about it.
The two tie in so well together that I made it a must to read a book that does the same and covers both subjects. The Absolutely True Diary Of A Part-Time Indian by Sherman Alexie is one that I've been wanting to read for some time. I for reasons that are beyond me never got around to it till now okay the giant TBR mountain may have had something to do with it.
I adored this book. Adored. It if you haven't read it, it should be one that you go and buy/borrow right now. Yes now. Okay finish the review and then but right after get it!
The book based on Sherman Alexie's own life is about Junior a kid born with water on the brain expected to be a vegetable after the operation to fix that he somehow not only doesn't have those expected issues but is quite the brainy kid. This brainy kid however is stuck on a reservation, the skinny kid with glasses and a poor family with limited opportunities. Junior however toughs it out with obstacles in his way that would make many an adult give up he keeps pushing for more and better. He changes schools an all white school no less. His being a skinny kid with glasses makes him a target for so many on the res and off. Once he goes to the new school he's seen as a traitor and so more abuse is hurled his way.
I loved Junior his determination, his humor, his desire to strive and accomplish and just plain have more in his life than being poor and drunk all the time. It's hard in the face of a future mostly filled with nothing to stand up and keep going. To walk miles and miles to school because you know it's most likely the only way you'll get out, to keep doing it even when you lose those close to you. Junior is a tough, smart kid and the book offers more of an insight into Native American life than probably any other. My heart broke for Junior and at the same time I beamed with pride. Yes pride at this kid who doesn't exist except on paper. His stay strong attitude is one that I wish all kids had. Most now a days think everything should be handed to them, bitch that they got an iphone 4 not 5 everyone's a winner. Ugh and people wonder why I don't want kids. Junior doesn't get it handed to him he wasn't born with a silver spoon in his butt and yet he strives to be something and keeps going even when told he's bad or wrong for doing it, even when he get's pushed down and treated so callously.
This book is one that is a must read. It should be mandatory reading for every kid and for that matter adults. Shockingly it's been banned. That's right some douche canoe and more than one I might add thinks it shouldn't be read wtf! ass hat. Did you even read the book and what is it that bothers you about this amazing story? Probably the same people who suggested that Harry Potter the book about being a good friend, staying strong in the face of adversity and never giving up is a book that shouldn't be read because kids will then practice witch craft! I don't know about anyone else but did those Harry Potter kids run around stealing eye of newt and throw patronus charms around. I think not. No those kids love reading why the hell is YA so popular now hello connection book banner morons?!
Related articles