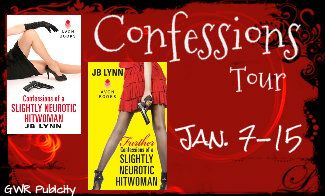 I can't describe how much I want to read these two books. JB Lynn's Neurotic hitwoman creation sounds like the most fantastic character. I read an excerpt on the Girl Who Reads blog and just fell in love. Oh how awesome!
I'm pleased to present an author interview. Enjoy and please check out the books I sure will. Today you can join JB Lynn for an interview on
goodreads
.
Amazon
/
Indiebound
/
B&N
Maggie Lee is not your  average hitwoman. For one thing, she's never  killed anyone. For another,  after hitting her head in the car accident  that killed her sister, her  new best friend is a talking lizard–a  picky eater, obsessed with "Wheel  of Fortune," that only Maggie can  hear.

Maggie, who can barely  take care of herself, is desperate to help  her injured and orphaned  niece get the best medical care possible, so  she reluctantly accepts a  mobster's lucrative job offer: major cash to  kill his monstrous  son-in-law.

Paired with Patrick Mulligan, a charming murder  mentor (who happens  to moonlight as a police detective), Maggie stumbles  down her new  career path, contending with self-doubt, three meddling  aunts, a  semi-psychic friend predicting her doom, and a day job she  hates. Oh,  and let's not forget about Paul Kowalski, the sexy beat cop  who could  throw her ass in jail if he finds out what she's up to.

Training  has never been so complicated And, this time, Maggie has to get the job  done. Because if she doesn't . . . she's the mob's next  target.
Take three wacky aunts, two talking animals, one nervous bride, and  an upcoming hit, and you've got the follow-up to JB Lynn's wickedly  funny Confessions of a Slightly Neurotic Hitwoman

Knocking  off a drug kingpin was the last thing on Maggie Lee's to-do list, but  when a tragic accident leaves her beloved niece orphaned and in the  hospital, Maggie will go to desperate lengths to land the money needed  for her care.

But the drug kingpin is the least of her worries.  Maggie's aunts are driving her crazy, her best friend's turned into a  bridezilla…and a  knock on the head has given Maggie Dr. Dolittle  abilities—she can talk  to animals. Unfortunately, they talk back.

It's just another day in the life of this neurotic hitwoman…
Please tell me about yourself –
I'm a professional bullshit artist who gets paid to kill people.
(In fiction, of course, not real life. I figured I should specify that before the FBI comes knocking on my door.)
I'm one of those people who always wanted to be a writer. It just took me a while to figure out which medium was best for me to spin my stories. I write. I read. I repeat.
What is something about you that no one knows? –
I don't like The Beatles….or Tom Hanks.
What do you like to do when not writing? –
Read. Cook. Train for half-marathons. Sleep. Spoil my dogs. Play endless games of Scrabble with my hubby.
What are you reading now? –
SWEET ON YOU by Kate Perry and the anthology WRITING CRIME FICTION.
Some favorite books and authors –
My reading tastes are all over the map.
Every year I re-read WHERE THE WILD THINGS ARE by Maurice Sendak, HORSE OF TWO COLORS by Glenn Balch (my favorite book when I was a kid) and TO KILL A MOCKINGBIRD by Harper Lee.
Lately I've found myself recommending any of THE SPELLMAN FILES books by Lisa Lutz, ROOM by Emma Donoghue, and STILL MISSING by Chevy Stevens.
What is your work space and writing routine like? –
I usually write at home, either on the couch in my office with a dog curled up on either side of me, at the kitchen table, or in the living room. No matter where (or when) I write, I've got the dogs and a cup of coffee with me, lol.
Your book sounds hilarious what inspired a story about a slightly neurotic hitwoman? –
Once you get to know me, I'm a sarcastic person with a fairly skewed view of the world. One of my critique partners kept suggesting I use "that voice".
The idea of a woman who sustains a head injury and can then talk to animals, who then is recruited to become a hitwoman by a mob boss, seemed like a good chance to indulge in some of my favorite things. 😉
What new stories do you have planned? –
There are more Neurotic Hitwoman in the pipeline, and I'm working on a fun new mystery/suspense series that begins with Crime Scene Cleaners who can see and talk to ghosts.

Besides being a writer, JB Lynn is a compulsive reader, a runner (of  sorts), an enthusiastic cook (who doesn't get the appeal of the Food   Network), and someone who has an irresistible urge to eavesdrop at all   times.
JB has a great love of her husband, dogs, coffee, purple  ink, spiral notebooks, running gear, hot showers, and '80s music. Given  enough  time, all of these things will eventually show up in her books.
Be sure to check the rest of the bloggers on the tour for this great book