Welcome to the Ninety-Five Percent Human book tour. Written by author Suzanna Williams this book is YA/sci-fi and the first book in a 2 part series. Thank you to Suzanna for the interview.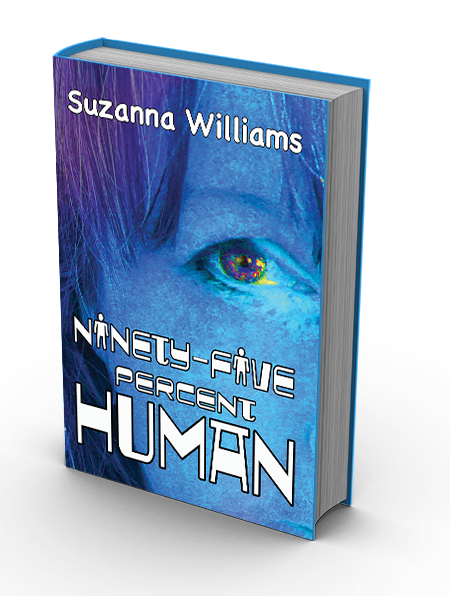 Teenager, Joe Kendrick, thinks he's got problems. The farm he's looked after since his father's suicide is failing and his brother wants to sell it, his girlfriend has dumped him and his normally down-to-earth Nan starts muttering about seeing UFO's. And all Joe wants is to live a 'normal' life.

Then he saves suicidal stranger Sarah from drowning. What Joe doesn't know is that Sarah is a human/alien hybrid, sent to test viability of life on Earth, and, as she's survived, hostile aliens are already planning their attack.

Ninety-five percent Human is the first in a two book, sci-fi adventure set amongst the Welsh mountains.
Thanks for taking part in the interrogation Suzanna, can you share something about you that no one know? –
I'm a bit OCD about cleaning my teeth: can't stand eating and not brushing and I've actually worn part of my front tooth away.
What book are you reading now? –
I'm reading 'A Million Suns' by Beth Revis. I loved 'Across the Universe' and, so far, it isn't suffering from middle-book syndrome.
What are some of your favourite books and who are your favourite authors? –
Normally, I don't admit to having a favourite author. Sometimes an author writes a great book I love, sometimes they don't. But these are the books I'd pack to take on holiday.
Where She Went, by Gayle Forman. Six Years, by Harlan Coben. Hitchhikers Guide to the Galaxy, by Douglas Adams.
What book are you dying to get your hands on? –
I'm excited that Champion, the final book in Marie Lu's Legend series, is coming out in November. I have to admit I was starting to get a little fed-up with Day's I'm-not-good-enough-for-June-self-doubt-wingeing in Prodigy and I didn't like the ending much, but I'm hoping Champion can turn things around and be as great as Legend was.
What is your work space and writing routine like? –
My best writing time is in the morning. I like to get up early and write before I get distracted by boring 'ordinary life' stuff, like work. I have a little office with a desk but I mostly sit on my comfy chair with my laptop.
For those not familiar with your work what do readers have to look forward to? –
I like to imagine all those 'normal' people you see in the street everyday have dark secrets and wild talents, so in my books you will find extraordinary things happening in ordinary places. I mean, can you really be sure that your best friend isn't telepathic and knows exactly what you're thinking? Or that neighbour who just moved across the street isn't from another planet?
My book characters need to have a really hard time, fighting impossible physical and mental odds, and I also prefer Romeo and Juliet stories to love triangles.
So that's what you get, with me.
Do you ever think you'll try writing a different kind of genre? –
Well, I've had an idea for a new book rattling round my head for a while now. The protagonist will be more NA than YA but it's a sci-fi time-slip adventure. However, I want to finish the series I'm currently writing before I move on. Wish I could write faster.
What kind of reaction do you think you'd have should you meet an alien? Take it to your leader, invite it home for dinner perhaps? –
That would depend on the alien.
If it was a normal-looking, friendly type of alien, I would definitely invite it for dinner and insist it tell me all about the planets it had visited and what it's like travelling through space. I probably wouldn't take it to any Earth leader because I couldn't guarantee that they wouldn't want to annihilate it.
However, if it was the ten-feet tall, green, slimy, human-eating sort of creature, I'd probably scream like a girl and head for the hills.
Can you tell me about Ninety-five Percent Human please? –
Ninety-five percent Human is a YA sci-fi about sixteen year old Joe Kendrick, living on a struggling Welsh hill farm, who saves a girl from drowning only to discover that she's a human/alien hybrid from another planet sent to test the viability of life on Earth. As she's survived, the aliens are planning their take-over … which kind of makes Joe responsible for the impending invasion and death of the human race … and he thought running the farm after his father's suicide was tough going.
What do you have planned next for readers? – 
I am writing notes for the sequel to Ninety-five percent Human. I do a lot of plotting before attempting a first draft. But I am also writing the second book in my ShockWaves trilogy. ShockWaves is action-adventure with a telepathic twist, full of parkour and crazy car chases. I'm having fun with that.

Suzanna Williams is a perpetually eighteen year old YA author who lives in the wild, wet, Welsh borderlands surrounded by ruined medieval castles and Celtic mythology where she looks for UFO's amongst the stars and imagines all the people she meets have dark secrets.
When she is not inventing radical problems for her unsuspecting heroes and plotting their escape, Suzanna is a serial collector of random badly paying jobs and has never found a use for her BSc in Psychology whatsoever.
As a child, Suzanna filled notebook after notebook with stories and her first taste of writing success was a poem published in the local newspaper aged just nine years old. She has written and directed several plays and pantomimes before publishing her debut novel, ShockWaves, in 2012.
Suzanna loves sci-fi action adventures, playing the piano, believes Romeo and Juliet should have talked more and considers sarcasm to be the highest form of wit.
She has a daughter who is a drummer, another daughter who is a driving instructor, a son who is a dancer and a 'nearly' grandson she's dying to meet.
Suzanna can be found on her web site / Facebook / Twitter / You Tube