I'm super excited to share this interview with author John F Allen. John is one of the new authors with Seventh Star Press and as I like to interview all the Seventh Star Press authors I requested one for my stop on the tour. A chance to get to know him better.
Johns book is an action packed urban fantasy, one I'm looking forward to reading.
Thanks to Seventh Star and John for allowing me to take part.
Book Synopsis: In The God Killers, the first book of The God Killers Legacy, former professional art thief Ivory Blaque is hired to procure a pair of antique pistols and gets much more than she bargained for when several attempts are made on her life.

Her client turns out to be a shadowy government agent who reveals that she is descended from a race of immortals, and that the pistols are linked to her unique heritage and the special psychic gifts she possesses. He uses the memory of her father to guilt her into working for him.

Ivory eventually gives in to his request, and in return, he presents her with her father's journal, which was written in an unbreakable code. Bishop believes that she is the only one capable of breaking the code and unlocking the plans of the vampire hierarchy. But when the city's top vampire is a sexy incubus with an attraction for her and she's assigned a hot new lycan enforcer to protect her, she finds herself caught between two sets of rock hard abs.

To regain her autonomy, clear her name, unlock the secrets of her past, and protect the lives of those closest to her, Ivory must play along with the forces trying to manipulate her. Ivory's life is rapidly spiraling out of control and headed for an explosive conclusion which she just might not survive.
Please tell me about yourself?
I'm an American writer, who focuses primarily on speculative fiction, but I also write poetry, essays, literary fiction stories and I am also a business writer. I studied Liberal Arts at IUPUI with a focus on Creative Writing, received an honorable discharge from the United States Air Force. I was born and raised in Indianapolis, IN where I currently reside with my wife and two children. I'm a comic book fan/collector/historian, movie buff and music fanatic. My debut novel, The God Killers is published through Seventh Star Press.
What is something about you that no one else knows?
That's not possible, as my wife knows everything about me!
However, in the spirit of things I will share a factoid that is not commonly known by those in my circles…I used to be VERY shy.
What are you reading now?
I'm currently reading Four Til Late by Eric Garrison, Virtual Blue by RJ Sullivan, The Doomsday Vault by Steven Harper, a Seventh Star Press anthology titled Thunder on the Battlefield (Vol I & II) edited by James R. Tuck and another anthology titled Black Pulp edited by Tommy Hancock.
What are some of your favourite books and authors please?
I have far too many heroes to name them all here, but here are a few!
Robert B. Parker, Walter Mosley, Edgar Rice Burroughs, Terry Brooks, Eric Jerome Dickey, L.A. Banks, Sir Arthur Conan Doyle, Robert Jordan, Laurel K. Hamilton, Charles R. Saunders, Stephen King, George R.R. Martin, Faith Hunter, Kim Newman, Dean Koontz, Tom Clancy, Louis L'Amour, Chester Himes, Terry McMillan, Ben Bova, WEB Griffin, R.A. Salvatore, H.G. Wells, Donald Goines, Piers Anthony, Zane and John Gardner…and this is the short list!
As for book titles, the same is true. Here are a few!
The Catskill Eagle, Tarzan of the Apes, The Casebook of Sherlock Holmes, Needful Things, Rainbow Six, Amaro, Guilty Pleasures, Odd Thomas, Men in Blue, Split Infinity, Skinwalker, Friends & Lovers, Waiting to Exhale, Game of Thrones, Magic Kingdom for Sale, The Kinsman Saga, War of the Worlds, Wheel of Time, Devil in a Blue Dress, Anno Dracula, Minion, The Sex Chronicles, Last of the Breed, Cotton Comes to Harlem, Whoreson, The Icewind Dale Trilogy and Win, Lose or Die…again, this is the short list!
What is your writing routine and work space like?
Throughout the week I take my son to school, come home eat breakfast and brew some coffee, and then I dive into writing! My goal is anywhere from 500 to 1000 words a day and most of the time I hit right around there. In the evenings, I work at a bookstore. Sunday is family day and I usually don't write on that day.
I have a space on the upper floor of my townhome I've affectionately dubbed, "The Ivory Tower." I have my desktop PC, printer, drawing board, art supplies, a satellite radio boombox, with an assortment of books, posters, various Pop Culture figurines and knick knacks.
How was the collaboration process for you in creating the art work for The God Killers?
My artist, Enggar Adirasa is a very talented illustrator and I'm extremely grateful to have him assigned to my novel. That said, coming from a visual artist background I was very aware of my vision. This meant that I gave him detailed reference material and even sketches I created. In fact, the initial painting of Ivory's face wasn't quite in keeping with my vision of her, so I sketched out how I thought her facial features should look and that became the template for the face on the cover as you see it.
On a related note, I sometimes think of my background as a visual artist as a double edged sword, both a blessing/gift and a curse/burden. I have the ability to write with both words and pictures, in a fashion. I find that it's the strong visual images in my visual artist mind that lends to me being as descriptive as I tend to be in my writing. It is great for that purpose, but sometimes gets in the way of giving much flexibility to my readers to interpret things as they want in their own mind's eye. Although ironically, the majority of my readers thus far have said they enjoy my descriptiveness. Overall, I would say it was a pretty good experience.
Are there other genres other than urban fantasy that you are dying to write?
Actually, I have a couple of stories circulating out there I've written in different genres. One is with Seventh Star Press in the Thunder on the Battlefield anthology. The story is titled "Forest of Shadows" and is a Sword & Sorcery tale. I also have a Science Fiction Adventure story submitted to another Seventh Star Press anthology. I have a Steampunk adventure and a dark horror story submitted, although it's way too early to give away any details.
Can you tell me about joining Seventh Star Press?
It was a clear sunny day in Madison, Indiana long ago…
Seriously, I met a young man named Rodney Carlstrom and we struck up a friendship due to our shared interests in reading and writing Speculative Fiction. He in turn introduced me to Stephen Zimmer, RJ Sullivan, Michael West and Chris Garrison. Once I got to know Stephen, I shared that I was a writer and he expressed interest in checking out my work.
I then almost shit a brick!
Once the initial shock wore off and I gathered up the courage, I submitted The God Killers manuscript to him. I expected to get my very first, in a long line of rejection letters. Instead, a miraculous thing occurred…he liked it!
From that point, I was introduced into a family of writers that I don't really know how I ever lived without.
What do readers have to look forward to in The God Killers?
Readers of The God Killers can look forward to a strong, unapologetic protagonist who evolves as the book progresses. They can also look forward to pulse pounding action, daring adventure & hair raising excitement!
Buy Links for The God Killers:
Print Version / Kindle Version / Nook / Kobo /iBookstore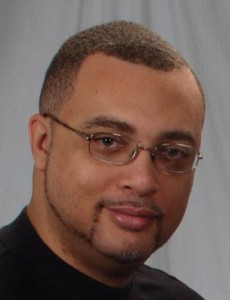 About John F. Allen: John F. Allen is an American writer born in Indianapolis, IN. John began writing stories as early as the second grade and pursued all forms of writing at some point, throughout his career. John studied Liberal Arts at IUPUI with a focus in Creative Writing, received an honorable discharge from the United States Air Force and is a current member of the American Legion. John's debut novel, The God Killers was released in 2013 with Seventh Star Press. John currently resides in Indianapolis, Indiana with his wife, son and daughter.
Tour Schedule and Activities
9/23                A Haunted Head                              Interview
9/23                Azure Dwarf                                       Promo Spotlight
9/24                SpecMusicMuse                                 Review
9/24                Come Selahway With Me                 Guest Post
9/24                The Dan O'Brien Project                   Promo Spotlight
9/25                Bee's Knees Reviews                          Review
9/26                Beauty in Ruins                                  Review
9/27                Readings Sunshine                            Promo Spotlight
9/27                Word to Dreams                                Promo Spotlight
9/27                Armand Rosamilia, Author               Guest Post
9/28                Sheila Deeth                                       Character Interview
9/28                Laurie's Thoughts and Reviews        Guest Post
9/28                Workaday Reads                               Review
9/29                Jess Resides Here                               Author Interview
9/29                Illuminite Calginosus                         Promo Spotlight