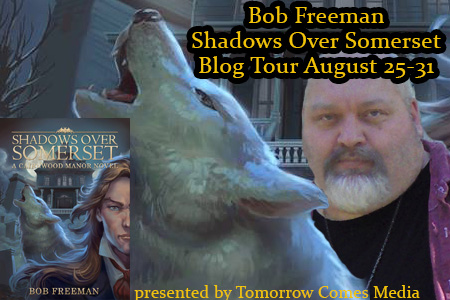 I'm very pleased to be a part of the Shadows over Somerset book tour for author Bob Freeman's first book with Seventh Star Press. More books are to come in this series, right now I have an interview with the author to share. Thanks to Bob and SSP for letting me take part.
What secrets lurk in the heart of Cairnwood Manor? Michael Somers is brought to Cairnwood, an isolated manor in rural Indiana, to sit at the deathbed of a grandfather he never knew existed. But very soon he finds himself drawn into the strange and esoteric world of werewolves, vampires, witches. and a family curse that dates back to 14th Century Scotland. In the sleepy little town of Somerset, an ancient evil awakens, hungering for blood and vengeance.and if Michael is to survive he must face his inner demons and embrace his family's dark past.
Please tell me about yourself.
Well, for starters, my name is Bob Freeman and I bill myself as an author, artist, and paranormal adventurer. I write occult detective fiction, primarily, though I dabble in more traditional horror, sword & sorcery, and, on occasion, occult non-fiction. I live on the outskirts of a rural Indiana town a couple hours north of Indianapolis with my wife and ten year old son, less than two miles from the farm where I was born and raised.
What is something about you that no one knows?
I'm not sure there's much of anything that no one knows, but the closest thing that comes to mind is my interest in letterpress. I have a dear friend, long retired and in his mid-eighties, who runs a print shop out of the back room of his late wife's antique shop. There are few things better than the smell of ink and gasoline when they mingle together, especially when the press is humming.
What are you reading now?
Sharp Objects by Gillian Flynn
Who are your favourite authors and favourite books?
I've never gotten over my obsessions with Robert E. Howard, H.P. Lovecraft, and Manly Wade Wellman. I'm also rather fond of Katherine Kurtz, Neil Gaiman, Alan Moore, George R.R. Martin, and Peter Straub, to name but a few. When I'm hungry for something more… esoteric… I turn to Aleister Crowley, Dion Fortune, Robert Anton Wilson and the like. As for favorite novels, several come to mind: The Illuminatus! Trilogy by Wilson & Shea, Foucault's Pendulum by Eco, Lammas Night by Kurtz, American Gods by Gaiman, Love is the Law by Mamatas, Crowley's Moonchild, Howard's Hour of the Dragon, and one that I often catch hell for, Anne Rice's Witching Hour.
What is your workspace and writing routine like?
I have a second floor office filled with books, comics, role-playing games, action figures, occult bric-a-brac, and other odd assortments. Therein I have a desk and an antique drafting table, neither of which I get to spend near enough time at. I do manage to hold myself to writing a thousand words a day, minimum. Now, if I could just convince myself to insure those thousand words were written on a single project, all would be golden.
Is there a genre you've not yet written but would like to try?
I've come close, but I've not yet fully committed to writing a full-on gothic romance. I fancy giving that a go before I hang up my hat.
What about the occult interests you?
For me, it has always been about knowing the unknowable, of exploring the boundaries of mind, body, and spirit — and going beyond them. Who doesn't long to traverse the great dark of the Abyss and unlock the preternatural secrets of the Ancients? I see it as my solemn duty to embrace my True Will, to be all that I can be, spiritually.
The cover and internal artwork for Shadows over Somerset is fantastic, how was this experience of having what you envisioned created for you?
Enggar Adirasa is a tremendous talent. When I realized I just didn't have the time to create the art myself, I was confident that Enggar would step up and deliver something wondrous, and I was right. He's brilliant and I can hardly wait to see what he does for Shadows Over Somerset's sequel — Keepers of the Dead.
Tour Schedule and Activities
8/25 Jess Resides Here Interview
8/25 I Smell Sheep Interview
8/25 Beauty in Ruins Guest Post
8/25 Shells Interviews Guest Post
8/26 The Cabin Goddess Review
8/26 Kentucky Geek Girl Top Ten List
8/26 The Official Writing Blog of Deedee Davies Top Ten List
8/27 Stuart Conover's Author Page Interview
8/27 Blog of Sheila Deeth Post on Art
8/27 Deal Sharing Aunt Top Tens List
8/28 Horror Delve Top Tens List
8/28 SBM Book Obsession Guest Post
8/28 Armand Rosamilia, Horror Author Guest Post
8/28 Willow's Author Love Top Tens List
8/29 Bookishly Me Review
8/29 The Rage Circus Vs. The Soulless Void Interview
8/29 Azure Dwarf Guest Post
8/29 Vampires, Witches, and me, oh my Guest Post
8/30 Sapphyria's Book Reviews Top Tens List
8/30 Bee's Knees Reviews Review
8/30 A Haunted Head Interview
8/31 Horror Tree Guest Post
8/31 The Rage Circus Vs. The Soulless Void Review
8/31 Seers, Seraphs, Immortals and more! Interview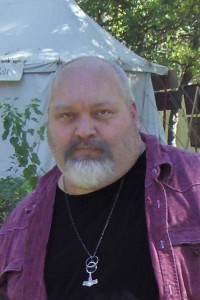 Bob Freeman doesn't just write and draw occult detectives, he's also a card carrying paranormal adventurer who founded Nightstalkers of Indiana in 1983.
A lifelong student of witchcraft, magic, and religion, Bob's studies are reflected in his art, both as an author and illustrator.
Bob lives in rural Indiana with his wife Kim and son Connor.
He can be found online at occultdetective.com
Author Links:
Website / Facebook / Twitter
Amazon Links for Shadows Over Somerset:
Kindle Version / Print Version