Special Trilogy Virtual Tour
Authors:
Jackie Gamber and H. David Blalock
Featured Books:
Jackie Gamber's Leland Dragon Series
H. David Blalock's Angelkiller Triad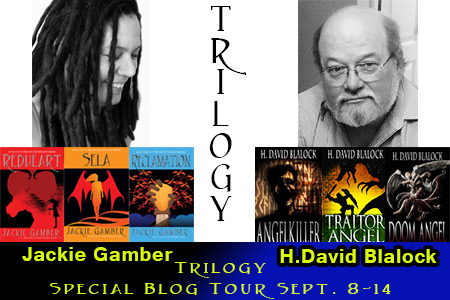 I'm really pleased to be taking part in this book tour for trilogies by authors Jackie Gamber and H. David Blalock. The Angelkiller Triad and Leland Dragon Series are from publisher Seventh Star Press and available now. I've got a review to share for my stop on the tour of Reclamation the final book in the Leland Dragon Series. Thanks to Jackie, David and Seventh Star Press. My reviews of books one and two can be read as well. Redheart and Sela are great reads and is a series I enjoyed.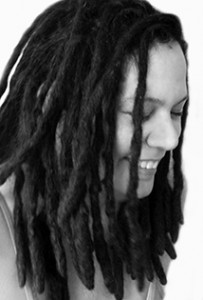 About Jackie Gamber: As an award winning author, Jackie writes stories ranging from ultra-short to novel-length, varieties of which have appeared in anthologies such as Tales of Fantasy and Dragons Composed, as well as numerous periodical publications, including Orson Scott Card's Intergalactic Medicine Show, The Binnacle, Mindflights Magazine, Necrotic Tissue, and Shroud. She is the author of the fantasy novel Redheart and Sela, and writing an alternate history time travel novel. She blogs professionally for English Tea Store.com, where she reviews classic science fiction and fantasy novels and pairs them with the ideal tea-sipping companion.
Jackie is a member of the professional organizations Science Fiction Writers of America and Horror Writers Association. She was named honorable mention in L. Ron Hubbard's Writers of the Future Award, and received a 2008 Darrell Award for best short story by a Mid-South author. She is the winner of the 2009 Mary Wollstonecraft Shelley Award for Imaginative Fiction for her story The Freak Museum, a post-apocalyptic tale that looks closely at perceptions and outward appearances and how they affect the way we see ourselves. Jackie Gamber was co-founder and Executive Editor of Meadowhawk Press, a speculative fiction publisher based in Memphis. One of their novels, Terminal Mind by David Walton, won the Philip K. Dick Memorial Award in 2009. Jackie also edited the award winning benefit anthology, Touched By Wonder. She has been a guest lecturer at Memphis Options High Schools, and is a speaker at writers' conferences from Michigan to Florida. Jackie is also the visionary behind the MidSouthCon Writers' Conference, helping writers connect since 2008.
Find more about Jackie and her work on her web site / twitter / goodreads
Review
The final book in the Leland Dragon series was a great ending to the series. A series that can be enjoyed by all ages. The beginning had me confused as I hadn't read book two in about a year so some moments had me wondering who was who and what was what, reading the series in order is recommended. That being said once I got beyond a certain point the familiar entertaining storyline that I had come to enjoy sucked me in and away it took me. I enjoyed Sela and her families story, her growth and discovery that she was more than dragon or human and spreading her wings actual and otherwise was such a pleasure to read, Jackie really makes you get behind the characters and you support them and cheer them on wishing them the right path to safety for themselves, for dragons and for Leland province. I enjoyed this book in the series as well as the previous two, I highly recommend this series to those who enjoy fantasy and coming of age stories.
Another trilogy from Seventh Star Press is written by H. David Blalock, I've read book one in the series and loved it. You can find out more about him and his work online
H. David Blalock
Website / Facebook / Twitter
H. David Blalock's Angelkiller Book Synopsis: Why do bad things happen to good people? Simple. In the ancient war between the Angels of Light and Darkness, the Dark won. Now it is the job of an undercover force simply known as The Army to rectify that.

Using every tool available, The Army has worked to liberate our world from The Enemy for thousands of years, slowly and painfully lifting Mankind out of the dark. On the front of the great Conflict are the Angelkillers, veterans of the fight with centuries of experience.

Jonah Mason is an Angelkiller, and his cell is targeted as part of plot to unseat a very powerful Minion of The Enemy. Mason and his troop are drawn into a battle that stretches from real-time to virtual reality and back. The Conflict is about to expand into cyberspace, and if Mason is unable to stop it, The Enemy will have gained dominion over yet another realm
Tour Schedule and Activities
9/8 SpecMusicMuse Review
9/8 The Rage Circus Vs. The Soulless Void Multi-Blogger Interview Part 1
9/8 Horror Tree Guest Post (Blalock)
9/8 Elizabeth Delana Rosa ~Book Lover & Creator of Worlds~ Guest Post (Gamber)
9/9 Jorie Loves a Story Guest Post (About Gamber)
9/9 I Smell Sheep Interactive Thread with Jackie and Dave
9/9 Armand Rosamilia, Horror Author Guest Post (Blalock)
9/10 The Southern Belle from Hell Art of the Angelkiller Triad (Blalock)
9/10 Bee's Knees Review Guest Post (Gamber)
9/10 Blog of Sheila Deeth Guest Post (Gamber)
9/10 The Official Writing Blog of Deedee Davies Multi-Blogger Interview Part 2
9/10 Seers, Seraphs, Immortals & More Jackie Gamber Interviews H. David Blalock
9/11 Seers, Seraphs, Immortals & More H. David Blalock Interviews Jackie Gamber
9/11 Workaday Reads Guest Post (Gamber)
9/12 Vampires, Witches, & Me, Oh My! Guest Post (Gamber)
9/12 Trip Through My Mind Multi-Blogger Interview Part 3
9/12 Beauty In Ruins Guest Post (Blalock)
9/13 Jess Resides Here Review
9/14 Willow's Author Love Guest Post (Blalock)
9/14 Fantastical Musings Multi-Blogger Interview Part 4
9/14 Jorie Loves a Story Guest Post (Gamber)

Amazon Links for Redheart, the First Book of Jackie Gamber's Leland Dragon Series:
Kindle / Print Version