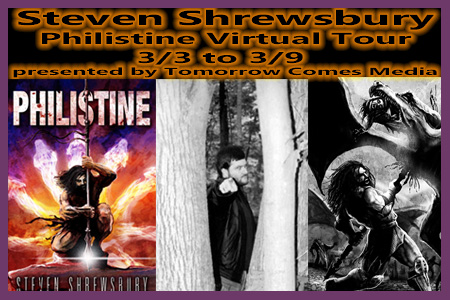 Welcome to my stop on the Philistine book tour. This book means a great deal to Steven I know that, he's mentioned it in conversations and so when the time came for me to pick a post for this tour I thought what better than to have him elaborate on this his baby with a guest post on why this one means so very much to him.
Steven Shrewsbury Featured Book Release
Philistine
A Tale of Goliath
Book tour – March 3 to March 9, 2014
Book Synopsis Philistine:
The Philistines, a mysterious warrior people known now for mainly one man: Goliath. The giant.
Goliath. A name grander than even the man himself. You've heard of his infamous end at the hands of a shepherd as written in a famous book, but what of the life of the man himself? What book tells his tale?
A warrior among warriors, a son of a god, a living legend. Goliath, the warrior champion of the Philistines. On the battlefield, he runs like a horse, wields killing instruments no normal man may heft, and revels in the fear his presence evokes. Off the field, his will is immutable, his trust invaluable, and his appetites unbearable. Goliath. This man knows no challenge.
But such a reputation will not discourage all men. Scheming rulers and generals, prophetic priests and powerful cults, dauntless warriors looking to make their own legend. Monsters. Gods. For one seemingly unkillable, at the very least, these things can ruin an otherwise pleasant day.
Along with his shield bearer, Abimelech, and soldiers more in awe than they are useful, Goliath will set out on missions for kings, face foul magic users, and walk in the shadows of mysterious halls. History tells us Goliath died at the hands of an Israelite.
Goliath may have something to say about that.
Philistine is the first Tale of Goliath, set in the same world as Steven Shrewsbury's novels such as Overkill and Thrall, and his Blood and Steel: Legends of La Gaul short stories.
Why would one want to write about a guy like Goliath? From what we see from the Bible and other sources, he comes off as a dick, kinda sorta, arrogant as hell. How many guys would really say, "Look, you dudes just send out your toughest guy and if he can kill me, this war isn't worth fighting. We'll just be your slaves, if he can kill me."
It was the words before that which interested me, that Goliath was "A man of war since his youth." I always wondered what he did for his entire life before that. PHILISTINE isn't a bio of Goliath, just a peek into several weeks of his life at a certain time and does not chronicle his death. There are subtle hints at his demise some day, but read the book and enjoy.
PHILISTINE isn't about furthering religion nor is it Christian fiction by any means. There is no debate on the accuracy etc of his existence. It's a yarn, a tale about a giant in a realm of evil wizards, monsters and lusty gals…so I figure any lover of fantasy can get their mind around that, right?
But why did this one mean so much to me? Why did I want to write it?
There are many historical characters that fascinate me, but yes, as a kid, Goliath's big ass made my mind roll. Of course it did, as he does to any kid that sees a giant. I think it was 2006 or 07 when I took my son John (then 8 or 9) to see WWE in Peoria and the Undertaker, billed at 6 ft 10, fought Mark Henry…but the Great Khali appeared the first time, a man over 7 foot tall. The crowd reaction to this figure, a head taller that Mark Calloway, the Undertaker, was a gasp. My son quipped, "I can't believe he is really alive." I never forgot his words.
Yes that's a breathtaking thing to see. That wonderment is in there someplace, in my desire to tell that tale, but I didn't make Goliath a clumsy beast. If anything, he moves with fluidity and I also don't really say exactly how big he is…I hint at it, and certain parts of his anatomy of course.
Did I want to write on him as the ultimate macho guy, the man who could slay a woman with his manhood? The badass of all badasses, to satisfy some John Millius thing I got in my head? Naw, not that easy. My father was a huge man, as are all the guys in my family. I grew up with giants and heroes in the same house, so I don't have prick issues. If anything, if was fun. I like action tales and long for pure escapism. I think many a writer who sets out to write a big assed volume forgets what fun is and is too in love with their won voice and ability to make a fake world be like the Earth. Change yer underpants, Junior and just set it on the Earth, for the luvva God.
Granted, PHILISTINE is a great deal more complex than my other novels. It's longer, 137k, about 50k more than my usual books. I didn't set out to write it like that, nor did I want to compete in some book door-stop fantasy novel contest. As the old saying goes, it ain't how big it is, but how ya use it. I think I used the 137k of words very well, just as effectively as my 80k version of a work. I did go through it more, probably because I enjoyed spending time in the realm than I care to admit.
In the end, telling about Goliath and the military guys about him, the creepy priests, the petty gods and the insurrection in Canaan among the Philistines themselves made for a great story to spin. That's what I wanted to do, tell a good story. I think I did.
It's a work I wanted to do before I die, because, frankly, I think I can tell it better than others. Why? I was there. I felt every footstep, every strike, every drop of blood that hit the sand. I felt the men live, laugh and also felt them die. Life isn't pretty and PHILISTINE is a brutal work not meant of the squeamish or the faith of heart.
But come take my hand, open the pages of scroll 'em down. Read and enjoy a story about a time far away and a world full of action, adventure, lust and violence. You might learn a little about history and yourself while reading, too.
Are there more tales I want to tell before I die? Many.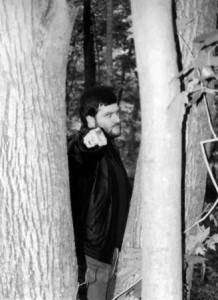 About the Author:
STEVEN L. SHREWSBURY lives, works, and writes in rural Illinois. Over 360 of his short stories have appeared in print or electronic media along with over 100 poems. 9 of his novels have been released, with more on the way. His books run from sword & sorcery (PHILISTINE, OVERKILL, THRALL, BEDLAM UNLEASHED) to historical fantasy (GODFORSAKEN) extreme horror (HAWG, TORMENTOR, STRONGER THAN DEATH) to horror-westerns (HELL BILLY, BAD MAGICK, and the forthcoming LAST MAN SCREAMING).
He loves books, British TV, guns, movies, politics, sports and hanging out with his sons. He's frequently outdoors, looking for brightness wherever it may hide.
Author and buy links:
Website / Facebook / Print Version / Kindle Version
Tour Schedule and Activities
3/3 Beauty in Ruins Character Post
3/3 Author HC Playa Review
3/3 Seers, Seraphs, and More Interview
3/3 Deal Sharing Aunt Tour Wide Contest
3/4 SpecMusicMuse Review
3/4 Come Selahway With Me Character Post
3/5 Bee's Knees Reviews Review
3/5 Book in the Bag Interview
3/5 MichaelSciFan Interview
3/6 Workaday Reads Character Interview
3/6 Book and Movie Dimension Blog Review
3/7 Azure Dwarf Review
3/8 Armand Rosamilia, Author Guest Post
3/8 The Official Writing Blog of Dee Dee Davies Character Post
3/9 I Smell Sheep Guest Post
3/9 Jess Resides Here Guest Post